Trailblazers
Leland Melvin
Many kids dream about flying into space one day, and countless others picture themselves being drafted onto a professional sports team. Amazingly, Leland Melvin has accomplished both.
---
Before earning a master's degree in materials science and engineeringfrom the University of Virginia, Melvin was chosen as an 11th round draft pick for the Detroit Lions. Unfortunately injuries prevented him from pursuing an NFL career, but this did not deter him from chasing even more ambitious goals.
In 1998, after serving as a materials evaluator at NASA's Langley Research Center for close to 10 years, Melvin was selected as an astronaut. He has since completed two missions aboard the Space Shuttle Atlantis: STS-122 (February 2008) and STS 129 (November 2009).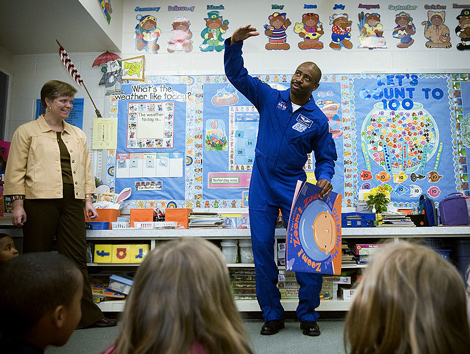 Leland Melvin visits a classroom to talk about space exploration
Melvin currently serves as a co-director of NASA's Educator Astronaut Program, travelling the country to discuss space exploration at schools and to help inspire the next generation of engineers and astronauts.
Learn more about Melvin's incredible experiences in space in this NASA interview: